Résumé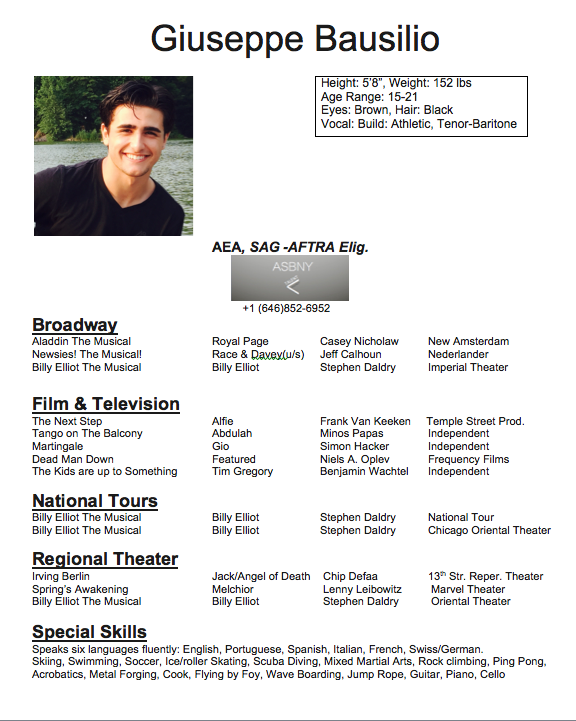 _____________
Giuseppe Bausilio Bio

Hi, my name is Giuseppe Bausilio and I'm an Actor, Singer, Dancer, and musician born in Bern, Switzerland. One day, visiting the magical New York City for a competition I was invited to perform on Broadway as "Billy" in Billy Elliot the Musical and later as "Racer" and "David" in Newsies The Musical on Broadway. Since then, I have been performing at very prestigious Cabarets such as 54 Below, Birdland and I also made my debut in Hollywood.
I'm always eager to learn and love performing wether I'm on stage or on screen. I just finished my run in Aladdin on Broadway and now up to my 4th Broadway show I'm part of the cast of the amazing revival of the musical CATS on broadway and Hello Dolly on Broadway. I'm also part of the cast of the TV series on season 4 of "The Next Step" on Family Channel. So happy that all my dreams are coming true!

_______________
Giuseppe Bausilio Bio

Born and raised in Bern, Switzerland, Giuseppe Bausilio comes from a family of dancers. His father, Alfonso Bausilio, born in Naples, Italy, is a former Dancer, and now teaches Ballet. His mother, Sônia Bittencourt Bausilio, born in Sao Paulo, Brazil, is also a former dancer and now heads two dance schools in Switzerland and one in New York City. Giuseppe's brother, Yannick Bittencourt, is a Principal dancer with the Paris Opera Ballet. Giuseppe speaks seven languages.

Giuseppe began dancing at age 4, appearing in operas and ballets at the Staadttheater in Bern. At age 8, he started competing in ballet competitions worldwide, winning Gold, Silver, and Bronze Medals in various International Ballet Competitions. He also won 3rd place in a Cello competition in Switzerland.

In April 2009, when he was 11 years old, Giuseppe won 3rd place in the world finals of Youth America Grand Prix (YAGP). Nora Brennan, the casting director for BILLY ELLIOT the Musical saw him there, and asked him to audition for the role of Billy. On November 20th, 2009, when Giuseppe arrived in NYC to begin rehearsals for BILLY ELLIOT, he barely spoke English.

A documentary about his life was made in Switzerland call "Giuseppe Super Star" when he began in BILLY ELLIOT and it has being updated with every new project, airing on Satellite TV in Europe and on prime time on Swiss Television.

Link to various episodes of" GIUSEPPE SUPER STAR": https://www.youtube.com/watch?v=G2CYfqNReTE&ebc=ANyPxKru48LRdaQcvGyChEHA-


aFXfdkkWosgLlkBwGiJp9Tfiw0tVMCFA6ZTDS72MWaSJBX5jxea
MgehtSkiOqrBprKT0rhHKw

At 12 years old, Giuseppe opened as Billy in Chicago on the 1st National company of BILLY ELLIOT. He later went on to star in the 2nd national company, and ultimately on Broadway. He was fourteen and a half when he took his last bow as Billy.

At 14 he won 2nd Place at YAGP during his run in BILLY ELLIOT.

At 15 he was cast as Melchior in Marvel Repertory Theater's off-Broadway production of SPRING'S AWAKENING.
Giuseppe has sung at Feinstein's, Carnegie Hall, Don't Tell Mama, Laurie Beechman Theatre, 54 Below, and at Sacré Coeur in Paris, and danced The Prince in THE NUTCRACKER in Minneapolis. He was featured in the film "Dead Man Down" with Colin Farrell and played the title role in the NAMT reading of THE BOY WHO DANCED ON AIR.

In 2014, at 16, he was cast as Race in Disney's NEWSIES! The Musical on Broadway and remained with the show until it closed.

Later that year Giuseppe co-starred with Michael Townsend Wright in Chip Deffaa's musical play IRVING BERLIN'S AMERICA at NYC's 13th Street Repertory Theater

More recently Giusepppe appeared in GREASE in Canada, in tributes to Sir Elton John at 54 Below alongside Tom Wopat and others, and appeared in several independent films, "Martingale" and "Tango on the Balcony'.